For the most current up to date reviews please check out or face Book Page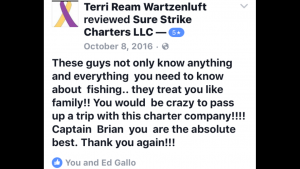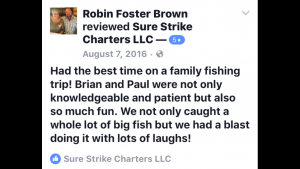 Hi , Captain Brian
Jason Mackey here, I was one of the lucky Father's Day winners of a fishing charter on lake Champlain with the captain Brian and captain Paul from Sure Strike Charters.
I apologize for the delay in getting back to you but things go crazy in the summer when you're a farmer…!
Wow, what an experience. Both Cpt. Brian and Cpt. Paul are the real deal without any question. They got us out and into the fish in a heart beat. We just about caught our limit and had an exceptional time out on beautiful lake Champlain.
My buddies and I came down the night before (June 24th) and had ourselves a great night in downtown Burlington.  We were on the water bright and early (June 25th). You can see a picture of one of the fish I caught in the 2015 photo gallery on the fishvermont.com web site on June 25th.
I want to thank wild country 96.5 for having thought of this give-away. I also want to thank captain Brian and captain Paul for their expertise and generosity.
Cheers,
Jason Mackey
Thanks for the great time
We had an incredible Lake Champlain fishing experience with capt Brian and first mate Paul .
They were professional, friendly and knowledgable. The boat was clean and comfortable. And boy did we catch fish. Who new lake trout could average ten pounds. It took my right wrist and back 4 days to recover and Myrna was able to land her biggest fish ever without getting seasick.
A special bonus was the family owned fish packing business which allowed us to take our catch home vacuum sealed.
We cannot recommend this experience more highly.
Myrna and Monte Nussbaum. Oceanside NY
Thanks Captain Brian
When your kids grow up and move across the country, your time with them is only occasional; a rare treasure.  To our  immense pleasure, we were able to locate Brian and Paul Dunkling and Sure Strike Charters, whose expertise provided us with the fishing experience of a lifetime.Thank you for your good cheer, your skill and the care you showed us out of town vacationers  We wish you all the success in the world..Sincerely,
Bud, Mary Ann and Renee Kremer
Hi Brian,
Kyle, Bob, and I want to thank you and Paul for such a great fishing adventure last weekend on the lake.  We had so much fun and are still incredulous at the number of huge lake trout we hauled in.  I shared the photos with my father and brothers, who were appropriately impressed:)  Your skillful navigation and knowledge of the lake and the fish, combined with your good humor and excellent story telling was a winning combination!  Thank you also for your patience with us novices.
In addition, we were most appreciative that you helped us get to your family's business in Burlington, where they clean, skinned, filleted, packaged, and packed the fish for transport home.  What service and kindness.  We pan fried one of the fillets that night, and it was great.  Tonight we are going to grill the trout.
Thank you and Paul again.  We noticed you put our photos on your website too!  We hope to see you later this summer for another fun fishing trip.  In the meantime, have a great season.  All our best to you, Paul, and your families.
Heidi, Bob, and Kyle
Thank you Brian and Paul, we couldn't thank you enough for making 2014 a Banner Year for us.   We've been to Europe, Hawaii, Alaska, New York and all the rest.  The day of fishing with you on lake Champlain was the highlight of my 80 years.  God bless you both.  Have a very Merry Christmas and a Happy, prosperous, healthy New Year.
The Kremers
San Jose, CA
Sent from my iPad
Sterline Marcum July 22nd, 2018
My husband and I fished with Brian and his Dad, Paul, on July 22nd, 2018. We had our limit of Lake trout in 3 hours! Great fishing because Brian and Paul know just what it takes to catch them. Super fishing guides!